Do you get annoyed with those weeds in your lake? Do you wish there was an easy way to rid your entire lakefront of those pesky weeds just to make your life easier? Before you take any action, there is a side to the story that you might not have thought about. Those "weeds" are often native plants – beneficial aquatic plants that belong in your lake. A new video, Natural Shorelines: Living in Harmony at the Water's Edge, developed by Tip of the Mitt Watershed Council tells the underwater story of why native aquatic plants are so important to your lake and explains why you might want to share your shore. You will learn about who might be living, feeding, raising babies, or hiding from "the jaws of death" in a healthy nearshore area of your lake. You will also discover how these aquatic plants protect your shoreline from erosion.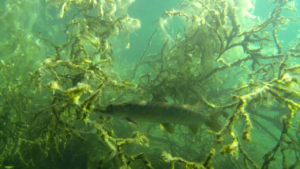 After you check out the video, you will likely want to protect nearshore fish habitat in your lake. Where to begin? You can enroll in the MiCorps Cooperative Lakes Monitoring Program (CLMP) Score the Shore program to find out how the nearshore habitat is faring across your entire lake, and identify opportunities for improvement. The CLMP Exotic Aquatic Plant Watch program will teach you to determine whether any of the plants in your lake are troublesome invasive species. To discover how well you are protecting nearshore habitat along your individual property, try the Rate Your Shoreland questionnaire from the Michigan Shoreland Stewards program. You may qualify for a sign to post on your shoreline that proudly shows that you are a Shoreland Steward! Entire lake associations can embrace and promote participation in the Shoreland Stewards program, empowering riparian property owners to learn how to provide valuable habitat for fish and other aquatic life.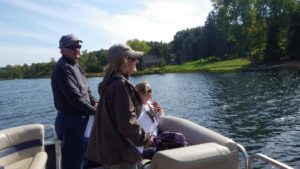 Between Score the Shore and Shoreland Stewards, your lake community can gather valuable data on the status of nearshore habitat on your lake, and track improvements over time.  If improvements or restoration is needed, you can find valuable resources on the Michigan Natural Shoreline Partnership website, including a listing of Certified Natural Shoreline Professionals (landscapers, contractors, plant providers, and more).
For more information on Score the Shore or the Exotic Aquatic Plant Watch, visit the CLMP Lake Monitoring page or contact Dr. Jo Latimore at latimor1@msu.edu or 517-432-1491.
To learn more about the efforts of the Michigan Natural Shoreline Partnership, visit the MNSP website.
Posted By: Julia Kirkwood, Michigan Department of Environmental Quality, and Dr. Jo Latimore, Michigan State University