It's MiCorps' 15-year Crystal Anniversary and we'd like to invite you to join us at our upcoming annual conference and training on October 23rd at the Kettunen Center in Tustin, Michigan, to celebrate the extraordinary work and dedication of the program's lake and stream monitoring volunteers over the years! This milestone also prompts us to look back at the program's accomplishments and to reflect on the great strides the program has made in extending its reach around the state and expanding the types of monitoring available to volunteers. But perhaps most importantly, we hope to celebrate the successes of our volunteers in supporting positive changes within their watersheds to keep Michigan's water bodies healthy for generations to come.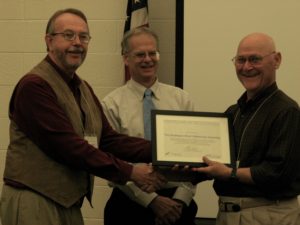 This annual event is a wonderful opportunity to visit with old acquaintances and to make new contacts with similar-minded water quality professionals and citizen scientists from around the state, as we discuss community engagement and the use of monitoring data to inform management decisions and protect and improve water quality. Save your seat now before registration closes on October 15th!
The 2019 events will kick off with optional pre-conference networking opportunities during the evening of Tuesday, October 22nd, for participants arriving the evening before the conference. Starting on Wednesday morning, we will hear from our featured keynote speaker, Mr. Jeremy Geist, Great Lakes stream restoration manager at Trout Unlimited, who will present information on improving watershed connectivity, resiliency and habitat in response to past and present threats to the region's coldwater resources. Throughout the day, water quality monitor volunteers, state and regional experts, Michigan Department of Environment, Great Lakes, and Energy (EGLE) biologists, and MiCorps staff will also share the latest volunteer monitoring efforts and success stories to improve water quality through a variety of plenary presentations, inland lake and stream thematic breakout sessions, and workshops on "Insect Identification" or "Plants of Michigan's Lakes and Streams." (View our conference program for more details.)
The conference registration fee is $45 and includes lunch at the conference on Wednesday, snacks, facility use fee, and all conference materials. For any participants needing to arrive the evening before or who wish to participate in the pre-conference activities, overnight lodging at the Kettunen Center and dinner on Tuesday (October 22nd) as well as breakfast on Wednesday (October 23rd) will be available for an additional charge. Please visit the conference webpage for more information and to register today!
Who Should Attend: Volunteer monitoring program leaders, citizen volunteers, water resource professionals and others interested in the health and protection of Michigan's lakes and streams are encouraged to attend.
For More Information: If you have questions, please contact Laura Kaminski at the Great Lakes Commission at 734-971-9135 or laurak@glc.org, or visit the conference website at: https://micorps.net/events/micorps-annual-conference-2019/. Registration for the event closes on October 15th.
Thanks for your continued interest in the MiCorps program and we look forward to seeing you later this month!