Guest Blog by: Patricia Jarrett, Office Manager and Monitoring Coordinator, Muskegon River Watershed Assembly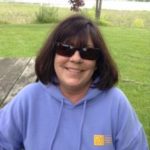 When I tell friends about my job working for the Muskegon River Watershed Assembly (MRWA), they are often surprised about the variety and unpredictable nature of my work, especially when I am out in the field. I have to remind them that it is not the norm. I spend far more time at my desk taking care of all the details that keep the train on the tracks. On the other hand, there are certain days that stand out. Last April, I found myself in waders holding a long handled fine mesh net scraping the bottom of Brooks Creek in Newaygo looking for aquatic insects. You just never know what's coming next.
The circumstances that led me to Brooks Creek with a net in my hands are complicated. To understand you need to have some background on the Volunteer Stream Monitoring Program (VSMP) managed by the Michigan DEQ-funded Michigan Clean Water Corps (MiCorps). MiCorps' VSMP provides technical assistance, training, and grants to volunteer stream monitors in Michigan to ensure that they are collecting reliable, high-quality data.
Trained MiCorps volunteers collect and analyze macroinvertebrates or aquatic insects in order to determine the health of the stream. The more of the good bugs – those that can only survive in cool, clean, well-oxygenated streams – the better report you can write.
Volunteer is the key word here. The DEQ relies on motivated and well-trained volunteers to assist with sampling Michigan freshwater streams. We refer to them as Citizen Scientists and they are essential to much of the work we do.
The MRWA has supported the program since our original grant in 2005. We recruit, train, and equip volunteers and collect and categorize the data they provide. The DEQ, through MiCorps, provides the necessary funding to qualified organizations who apply for the grant. In 2017, we received another two-year grant through MiCorps to improve and expand our monitoring.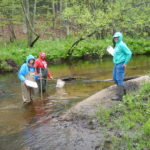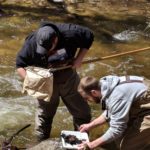 Following a conversation with program manager Paul Steen, I understood that MiCorps had procedures in place in the interest of ensuring high quality data. The guidelines call for monitoring teams of four or more to ensure proper handling of insects, which include people on shore picking the insects as others collect. Volunteers were required to sample a variety of locations instead of going to the same location year after year (which introduces sampling bias). Among other things, Paul also insisted a certain number of sites must be monitored in each cycle to fulfill the conditions of the grant.
While we definitely supported the changes which we felt were necessary, there is no question they created some challenges. Some of our long-time volunteers didn't react positively and decided to drop out. It became clear that we would have to recruit and train a brand new team of volunteers while updating some of our internal policies regarding equipment and materials.
The group that showed up for an all-day training at Brooks Township Hall in Newaygo were just what we needed – motivated and eager to learn. These would be our team leaders. Our own Cindy Fitzwilliams-Heck, a biology professor at Ferris, delivered her usual high quality presentation and then we all went to Brooks Creek to practice what we learned.
Some of us suited up with waders while others stayed onshore and identified the bugs. It is amazing how much fun natural science can be, particularly when your environment is a cold clear little stream that produces abundant mayfly nymphs and caddisfly larvae among other sensitive species. Brooks Creek would get a clean bill of health in anybody's book.
Feeling confident in our process, the next step was to schedule the official site visits where the data collected would be analyzed and eventually entered into a statewide database called the MiCorps Data Exchange (MDE). The teams met in Newaygo at Ed Henning Park for distribution of the nets and other gear including the field data sheets. Offering a few final words of encouragement and map coordinates, we sent them off to their designated sites.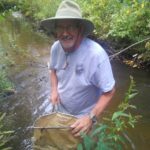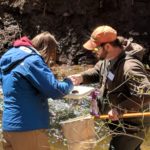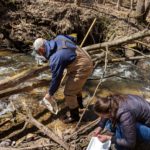 I am pleased to report all the teams returned with a nice collection of macroinvertebrates later that day and were able to complete their identification and documentation at the park.
They appreciated the experience. John Stegmeier, retired U.S. Fish and Wildlife Services employee and one of our team leaders sent us this comment: "There is an amazing diversity of life all around us that remains unnoticed much of the time. Taking part in the insect monitoring program as a Citizen Scientist allows you to see and discover a part of this diversity first-hand and experience first-hand the connections between land use, water quality and the diversity of life in a stream".
Not everyone monitored a healthy section of stream but that is part of the process. Colton, one of the younger participants was not finding much and was heard to mutter, "If I was a fish I wouldn't live here".
That is exactly what we need to know Colton. Maybe we can fix it.
Recruitment therefore is ongoing. Because of this project and others planned, we will always have a need for individuals who are willing to give their time and effort in support of clean, fresh water. Citizen science projects are rewarding and educational. Many of our active participants tell us they have real appeal as family activities. If you are interested in learning more, please contact us by phone at 231-591-2334 or by email at mrwa@ferris.edu.
The Muskegon River Watershed Assembly is dedicated to the preservation, protection, restoration, and sustainable use of the Muskegon River, the land it drains, and the life it supports, through educational, scientific and conservation initiatives. The MRWA is currently supported, in part, by a 2017 Aquatic Macroinvertebrate Survey grant under the MiCorps Volunteer Stream Monitoring Program (VSMP). They also received a 2010 start-up grant to develop a macroinvertebrate monitoring program in the Hersey Watershed, a subwatershed of the Muskegon River, as well as their initial 2005 Aquatic Macroinvertebrate Survey grant for monitoring in the Muskegon River watershed.