The Volunteer Stream Cleanup program — part of the Michigan Clean Water Corps (MiCorps) — in 2021 made available $25,000 in grant funding to local units of government to implement trash cleanup of rivers, streams and creeks. Municipalities often partner with nonprofit organizations or other volunteer groups to carry out cleanups. Funding comes from the sale of the state's Water Quality Protection license plates.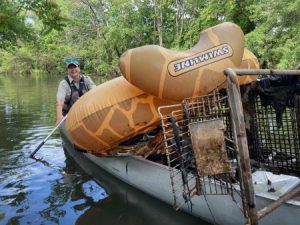 Here's a summary of the program for 2021:
$25,000 available from the State of Mi Water Quality Protection License Plate Fees.
Seven organizations applied, and all were funded: Benzie Conservation District, City of Ecorse, the Clinton County Conservation District, Genesee County Parks and Recreation. Commission, Grand Traverse Conservation District, Missaukee Conservation District, and St. Joseph Conservation District.
Total local match (25% required) $20,597.88 (132% of grant dollars; includes volunteer labor).
637 volunteers participated with 1,080 hours of work.
142 miles of rivers/streams were cleaned.
Weighed garbage was 4,698 pounds, but probably double that or more was collected that couldn't be weighed.
Most interesting finds included a 60-pound pop-up tent, 12 shopping carts in one location, metal poles ending in concrete, and almost an entire car worth of parts.
MiCorps is a network of volunteer water quality monitoring programs in Michigan. It was created through Michigan Executive Order No. 2003-15 to assist the Department of Environment, Great Lakes and Energy in collecting and sharing water quality data for use in water resources management and protection programs. Check out the fact sheet for more information on the 2021 Volunteer Stream Cleanup projects.
Article originally published by the Michigan Department of Environment, Great Lakes, and Energy. Visit our Stream Monitoring and Cleanup Grants page for information on the 2022 Cleanup Grants program.